Highlights of IACMR Events at AoM 2019
The IACMR-RRBM Responsible Research in Management Award Ceremony was held at the Independence West Room of Sheraton Boston Hotel on Sunday August 11.  This award recognizes scholarship that focuses on important issues for business and society, using sound research methods. Both this year's and last year's winners will be honored at the ceremony. Several winners discussed their research during the ceremony, and answered questions from the audience. We hope that this award encourages more work that is both high in social impact and backed by strong research.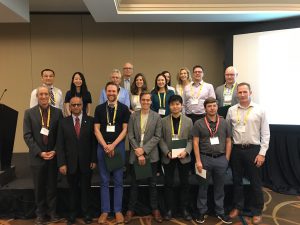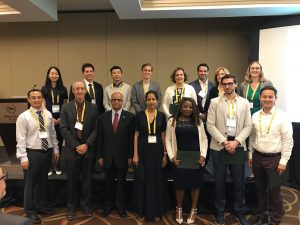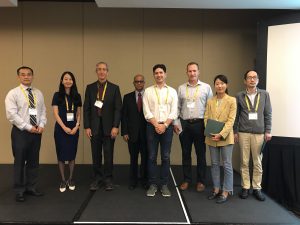 The Kwok Leung Memorial Dissertation Fund grant award ceremony was held at the Independence West Room of Sheraton Boston Hotel on Sunday August 11.  It's the 4th year to give the award. The Kwok Leung Memorial Dissertation Fund had been created to commemorate the life and work of Professor Kwok Leung, and to continue his mission of supporting young scholars.
David Zhu (Arizona State University) and Jia (Jasmine) Hu (The Ohio State University), Co-Chairs of the IACMR Research Committee, conferred the awards to three winners who were present, Jingxian Yao, Zhiyu Feng and Tingting Lang. Each of them (plus two other winners of Wei Wang and Danyang Zhyu) were given the award certificate and a grant of RMB10,000 yuan.
As usual, a highly popular IACMR/MOR joint reception was organized by IACMR/MOR and the host schools of the 2020 IACMR biennial conference, Guanghua School of Management, Peking University and Xi'an Jiaotong University. Prof. Runtian Jing, Program Chair of 2020 conference, Prof. Weiguo Zhong from Guanghua School of Management and Prof. Fuli Li from Xi'an Jiaotong University addressed to the audience to welcome everyone to the conference next year. The conference will be held at Xi'an Campus of Guanghua School and neighboring hotels, with historical sites of Terracotta Warriors and Emperor Qin's Terracotta Army and Huaqing Hot Spring Palace sitting a few kilometers away. About 200 participants joined the reception to either say 'hello' to a new friend or meet old friends while enjoying tasty food and wine.