IACMR Research Seminar Series Session #29
Topic: Bridge over Troubled Waters? Inter-state Political Conflicts, Types of Corporate Political Ties and International Joint Ventures
Speaker: Rose Luo (INSEAD)
Time: 19:00-20:15, Oct 26, 2022 (China Time, UTC+8)
Language: Chinese
Abstract
Inter-state political conflicts are an important source of political risks deterring firms' cross-border collaborations. We propose how two types of business leaders' domestic political ties, family ties and social ties, can have opposing effects on firms' establishment of international joint ventures during inter-state political conflicts, in a context where such ties are salient and have distinct social meanings. While both can help the firms navigate regulatory uncertainties at home, family ties can tarnish the firms' legitimacy in the host country by identifying the firms with the state, outweighing their benefits. We find empirical support in Korean business groups' entry into China through joint ventures during 1990-2005. Our study contributes to the literatures on political risks and corporate political ties by disentangling ties of different nature.
Speaker's bio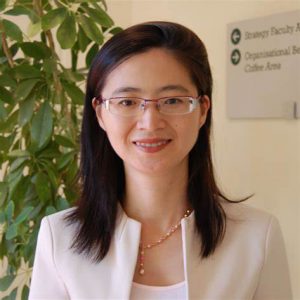 Professor Xiaowei Rose Luo is the Rudolf and Valeria Maag Professor in Entrepreneurship and a tenured senior faculty member in the Area of Entrepreneurship and Family Business at INSEAD. She is Academic Director of the top-ranked Tsinghua-INSEAD dual-degree EMBA program and Department Chair of Entrepreneurship at INSEAD. Before INSEAD, she served as a tenured faculty member at the University of Illinois at Urbana-Champaign for 9 years. She holds a Ph.D. in sociology with a focus on organizational studies from Stanford University.
Professor Luo's research explores the impact of socio-political environment on corporate strategies and practices, through the context of emerging markets and family firms. She has published numerous research studies in leading academic journals such as Administrative Science Quarterly, Organization Science, Academy of Management Journal, and Strategic Management Journal, and serves as editorial board members in the journals. In 2016, she was invited to be the keynote speaker of the biennial conference of the International Association of Chinese Management Research. She served as Deputy and Senior Editor of the Management and Organization Review (MOR).
A native of China, Professor Luo received her B.A. in Linguistics and English and American Literature and studied in the graduate program in World Economy at Fudan University, Shanghai.