2023 IACMR Conference Submission System Open!

We are very pleased to announce that the IACMR 2023 Hong Kong Conference system is now open for paper and symposium submissions! The online submission system will stay open for paper and symposium until midnight October 23, 2022, U.S. Eastern Standard Time, for Professional Development Workshops (PDW) until November 20, 2022. To ensure your submissions are received and reviewed, please refer to the guidelines as specified in the Call for Submissions and follow carefully the online instructions.
All submissions should be submitted through our online submission system, I would like to draw your attention to the following information.
Login
Please visit the submission pages to start.
Paper submission: https://www.xcdsystem.com/iacmr/abstract/index.cfm?ID=NZiVJ57
Symposium submission: https://www.xcdsystem.com/iacmr/abstract/index.cfm?ID=PrWkj8X
PDW submission: https://www.xcdsystem.com/iacmr/abstract/index.cfm?ID=a8cF0xq

1. Please log in with your membership email account and password under "Returning User" to login. Click "Reset password" if you do not remember your password.
2. If you are a first-time user or are not sure about your account status in the system, please click "Create a Profile" at the left and follow the instructions.
3. If you have recently signed up as a reviewer, your username and password for the reviewer account also work here.
Submission
Before submitting your paper, you will be asked to complete the following two steps, "Update your profile" and "Sign up as reviewer".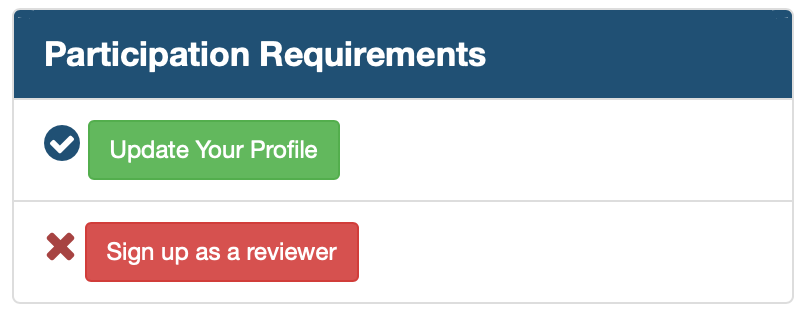 After completing the two steps, you are able to start paper submission by clicking "Click Here to Start".

Then you can follow the instructions to submit a paper and add author(s) where necessary.
Please be reminded:
1. The paper you submit has not been published or presented elsewhere.
2. Make sure all author information has been removed before uploading.
3. After submission, you may amend your manuscript content before it is assigned to reviewers. However, you are not allowed to alter the information about authorship, particularly to add more author(s).
Please submit as EARLY as possible. Last-minute submissions often result in more mistakes, and the authors tend to miss important information regarding the process.
We sincerely invite you to join us at the IACMR 2023 Hong Kong Conference! We wish you best of luck and look forward to receiving your submissions!

Wei Shen
Program Chair, 2023 IACMR Conference
Professor, Arizona State University