Job Opening| Xi'an Jiaotong-Liverpool University School of Intelligent Finance and Business Position ID: 2423
Deputy Dean, Director of Education, Research and Development Institute
School of Intelligent Finance and Business
Xi'an Jiaotong-Liverpool University Entrepreneur College (Taicang)
| | | | |
| --- | --- | --- | --- |
| | | | |
| Location: | Suzhou | Placed On: | 15th April 2022 |
| Salary: | Competitive | Closes: | 15th July 2022 |
| Contract Type: | Full-Time for an initial 3 years, renewable. | Job Ref: | 2423 |
UNIVERSITY OVERVIEW
Located in Suzhou, China, Xi'an Jiaotong-Liverpool University (XJTLU) is a young, dynamic and EMI university founded in 2006, and is a unique collaborative institution and first joint-venture university in China to offer both UK (University of Liverpool) and Chinese (Ministry of Education) accredited undergraduate degrees for more than 100 programmes.
Over 18,000 students and nearly 1000 academic staff representing in excess of 90 nationalities
86% of graduates in 2020 chose further study abroad, and among which 38.1% go to World Top 10 university and 80.36% go to World Top 100 university
Ranks 46 in China Mainland (QS World University Rankings 2021)
Ranks 35 in China Mainland (Financial Times Asia University 2021)
TAICANG CAMPUS
Xi'an Jiaotong-Liverpool University (XJTLU) is building a new teaching site in Taicang city – XJTLU Entrepreneur College (Taicang campus), with the collaboration of the Taicang Municipal Government and industry partners, as part of its strategic priorities for the next ten years. The new Taicang campus will be a pioneer of, and an educational model for developing talent and industry leaders to meet local, national, and global challenges of the 4th Industrial Revolution, in a state-of-the-art campus.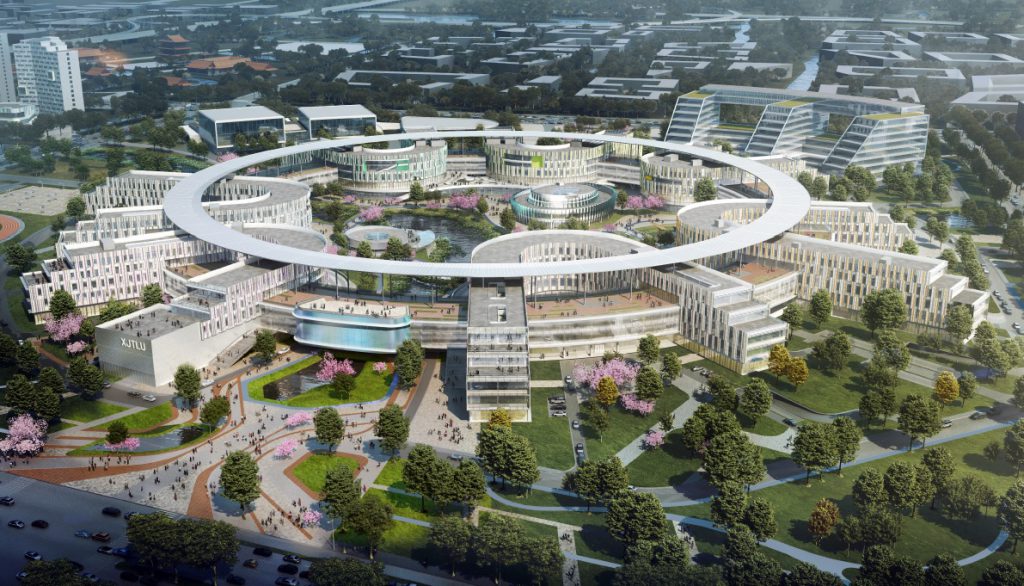 SCHOOL OF INTELLIGENT FINANCE AND BUSINESS
The School of Intelligent Finance and Business (IFB) is one of the seven industry-themed schools in the XJTLU Entrepreneur College (Taicang) and the only one that dedicates to business education amongst all Taicang schools. Unlike traditional business school or management school, the School integrates specialized, industrial and management programmes seamlessly to educate and cultivate
the next generation of international industry elite.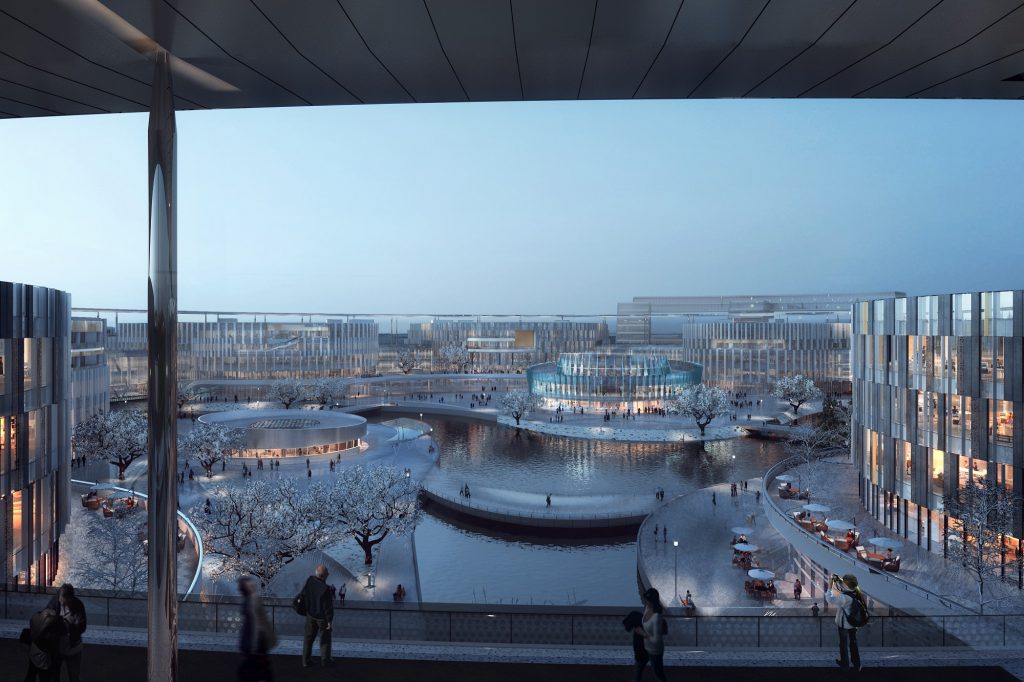 JOB RESPONSIBILITIES
The Deputy Dean, Director of ERDI is a member of the School Management Team. The School Management Team is led by the Dean of School and comprised of the Deputy Dean/Director of ERDI, the CEO of School JV Company, and the Director of School Office. The main duties of include:
Work collaboratively with the Dean of School to:

Design, implement, and provide ongoing monitoring of the School's teaching and learning, research, industry partnerships, engagement, and innovation strategies.
Promote, manage and contribute to the delivery of an effective programme of continuous development for academic members of staff to ensure they are equipped and supported to deliver high quality teaching and student experience.
Lead and manage the School's business engagement initiatives with a view to building an extensive portfolio of potential industry collaborative partnerships.
Create, nurture, and support a healthy research environment, with agreed annual research outcomes and expectations.
Identify and implement strategies to maximise grant capture and research income, from both external funding bodies and business/industry.

Work collaboratively with Programme Director(s), academic members of staff, and School Office to:

Promote, manage and contribute to the delivery and development of appropriate undergraduate and postgraduate degree programmes to the required standards expected by the ministry, university academic regulatory framework, and where necessary, appropriate professional, statutory and regulatory bodies.
Ensure that the school and curriculum design delivers an inclusive, enriching, and enabling learning experience, as evidenced through student satisfaction, personal development and positive degree outcomes, and to work with industry partners to achieve this.

Work collaboratively with relevant School(s), College and University entities to identify opportunities for meaningful and genuine partnership and successful impact-creation for research.
Manage investment funds which have been agreed by the Dean of School, Associate Principal, Principal or XJTLU Dean for Research, for Research and Innovation.
Represent the Dean of School when necessary, within the College, University and externally as appropriate.
Any other appropriate tasks assigned by the Dean of School.
Any other appropriate tasks assigned by the University SMT, School Council or Taicang Leadership Team through the Dean of School.
PERSONAL ATTRIBUTES
This role will attract academic leaders embodying Syntegrative Education (SE) values and are passionate in engaging in a future-focused co-learning ecosystem comprising students, academics, practitioners, university, industry, and community. The Deputy Dean, Director of ERDI is a leader who thrives by creating impact through managing, nurturing, and enabling authentic engagement, cross-boundary collaboration, collective learning and discovery programmes and activities. The candidate adopts a system mindset, understands transdisciplinarity and complexity, uses his/her knowledge, skills, and experiences to deliver success and create impact for the School, College and University.
ESSENTIAL QUALIFICATIONS:
Candidates must hold a doctoral (normally PhD) degree in supply chain management, operation management, information system management, management science, finance, fintech, business analytics, or digital marketing from a world-renowned university, or able to demonstrate an equivalent professional practice and engagement to a similar level.
Clear understanding of the philosophy and concept of Syntegrative Education (SE) and demonstrable past teaching/industry/leadership experiences or practices aligned with Syntegrative Education (SE).
Candidates shall become familiar with and observe China and United Kingdom's rules, and regulations of higher education.
Candidates shall have excellent leadership and management experience, and ability to motivate and inspire teams.
Candidates shall demonstrate excellent organisational and implementation skills, evidenced by important activities, events, projects in the past career.
Candidates must have a national/international reputation and demonstrate impacts in any of the academic fields relevant to the School.
Candidates shall have rich experience in teaching, research, academic leadership, innovation and entrepreneurship, strategic planning and financial management in a university and/or business environment.
Candidates are expected to have a good sense of business and industry trend, and can demonstrate a good track record of industry engagement in various forms.
Candidates must have a high level of communicative competence in English; an equivalent knowledge of Chinese would be an advantage.
Candidates with administration and management experience in international universities or Sino-foreign joint universities would be an advantage.
Some experience of working in a relevant industry would be an advantage.
COMPENSATION PACKAGE
Members of Academic Staff are entitled to subsidies for accommodation, travel, and children's educational, medical insurance, and a one-time relocation allowance is provided. Overseas staff may receive a tax "holiday," depending on nationality and personal circumstances.
CITIZENSHIP AND VISA REGULATIONS
Employment at Xi'an Jiaotong-Liverpool University is regulated by Chinese Labour Laws and must comply with the regulations of the provincial government. These regulations stipulate who is eligible for legal employment with regard to obtaining work permits and visas. Please be advised candidates over 65 may be not eligible for PRC work visa.
TO APPLY
Please submit your applications online. Applications must be submitted in a single PDF file that includes the following parts in the order of:
An extended cover letter consisting of;

point-by-point address of your qualifications and suitability for the role using the selection criteria above

your vision for the school in the short, medium and long term (one-page maximum)

A current CV, including date of birth, country of citizenship, current location, and highest degree level;
Contact details for three references (Preferably one reference from current or most recent employer).
For further information, please contact the Dean of the School by email junsong.chen@xjtlu.edu.cn. If you are unable to apply on-line please contact the Human Resource Office through our HR Business Partner, Ms Yiting Xu at Yiting.Xu@xjtlu.edu.cn. Applications should be received by the closing date stated above.