New Open Access Book: Emotion and Proactivity at Work: Prospects and Dialogues (2021)
New Open Access Book: Emotion and Proactivity at Work: Prospects and Dialogues (2021)
Edited by Kelly Z. Peng and Chia-Huei Wu
Published by Bristol University Press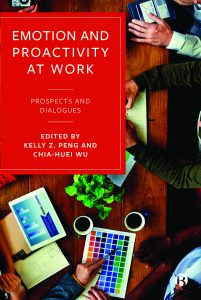 Dr. Kelly Z. Peng and Dr. Chia-huei Wu recently co-published an edited book " Emotion and Proactivity at Work: Prospects and Dialogues". This edited book is aimed to disseminate new thinking in synergistic interaction of emotion and proactivity to advance the understanding of the emotional process of proactivity and forward- looking future research revenues.
About the book:
Individuals' behaviours at work are known to be shaped by cold, or cognitive-motivational, processes as well as hot, or affect-motivational, processes. To date, research on employee proactivity — or their self-initiated, future-focused, and change-oriented work behaviour — has mainly focused on the 'cold' side. But emotion has been proposed to 'energize' employees' proactivity, especially in interdependent and uncertain work environments. In this pioneering work, expert scholars offer new thinking on the process by examining how emotion can drive employees' proactivity in the workplace and how, in turn, that proactivity can shape one's emotional experiences. The collected chapters also offer a comprehensive review on emotion and proactivity from different levels of analysis, based on Five- Level Model of Emotions in the Workplace by Neal M. Ashkanasy, one of the contributors of the book. Altogether, the book provides insights for how we can extend the current research to enrich our understanding on the relationship between emotion and proactivity in various contexts.
Sharon K. Parker, one of the most influential scholars in the field, from Curtin University commented that "The discussion of emotion and proactivity will be enriched after the publication of this volume. It provides a comprehensive overview for anyone wanting to get up to speed on this topic, and is a terrific source of new ideas for budding PhD students or other scholars looking for new inspiration." Thomas Rhys Evans from Coventry University also said, "This text represents a bounty of expertise, perspectives, and cutting-edge developments surrounding proactivity and emotion. It establishes the questions and answers which will lead the field for years to come."
**You can now download the Open Access book, Emotion and Proactivity at Work edited by. Kelly Z. Peng and Chia-Huei Wu via OAPEN. (EPDF and EPUB available Open Access under CC-BY-NC-ND licence.)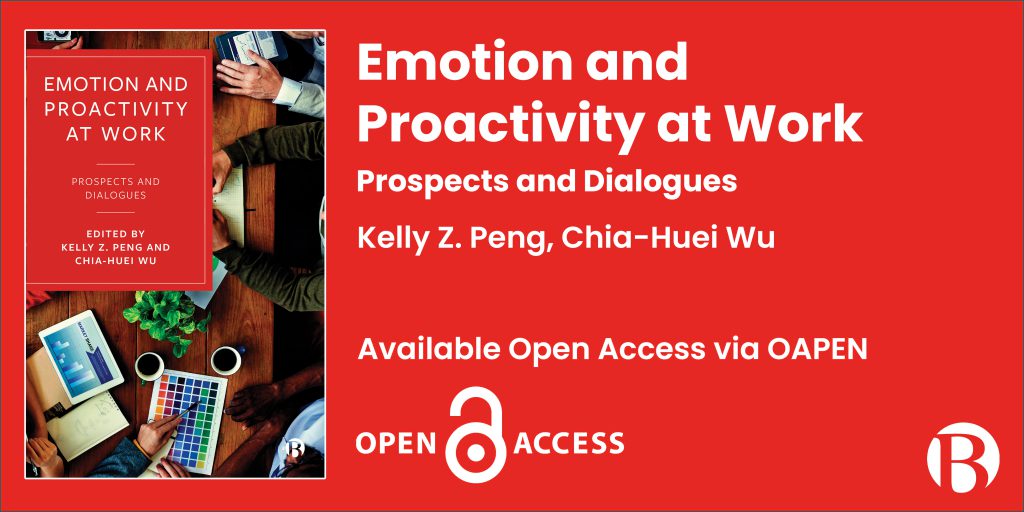 For review copies and press enquiries, contact: bahar.muller@bristol.ac.uk
To get 35% discount on ALL Bristol University Press and Policy Press books, sign up to our newsletter here.